My favorite part of this Sunday wasn't the Super Bowl, with its rinky-dink short passes and its lame-o commercials (Denny's aside). No, my favorite part of this Sunday started with this email I sent to
underwhelm
: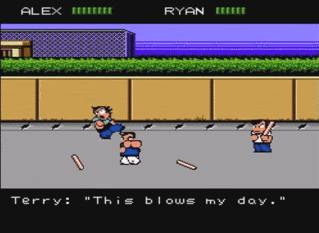 From: RYAN
To: ALEX
Subject: This Sunday!
ALEX - did you hear the news?! Slick, the meanest, most powerful gang lord in River City, has taken our high school captive. He says that with his gangs of students and vicious bosses roaming the streets, that nothing can stop him!
I know we were lucky enough to have not been in school the day Slick took it over, but our fellow students are being kept as prisoners. And now just any student - Slick has kidnapped my girlfriend, Cyndi!
I think it's up to us to battle our way through these gangs and then defeat Slick in order to free the students of River City High and to restore peace to the panic-stricken populace. I think we're in for the fight of our lives!
How does this Sunday at noon sound?
Barf!,
RYAN
Ended up hooking up the ol' NES, and between my love for fudge, ice cream, and steak, and
underwhelm
's Texas Boots predilection, we ended up beating the game in just under two hours, on the advanced difficulty. Was awesome, and I still can't help but wonder why nobody has made another decent side-scrolling beat 'em up with RPG elements like
River City Ransom
.
Also, there was homemade eggnog. Mmmmmmmmmmm!